An individual who is active online, witnesses several videos every day on various platforms, these platforms may range from mainstream social media sites to professional websites to official video streaming platforms. Live videos published on the internet can come from a lot of different sources, being shot on different devices. One such device is an Internet Protocol camera, commonly known as an IP camera.
An IP camera live streaming gives the broadcaster maximum control. As the name suggests, the operation of this type of digital camera doesn't require constant human operator at the scene. The command is received, and image data is sent to the user via the internet. Some of the many situations where there is no need for constant human presence for the camera are:
Inside classrooms and lecture theatres
For personal home security
Traffic cameras
Places where permanent camera installations are required for example, in sports complexes, famous temples etc.
Nature and environment streaming being done 24/7.
Business and event security cameras.
Any other place or event where an operator for the camera cannot be present.
IP cameras are both versatile and easy to access. This allows the user to do live IP camera streaming in a manner that is simpler and can work for any device that can be connected to the internet. To understand this in detail, let's take a look at all the benefits of using your IP camera for your live streaming solutions.  
Why should you use an IP Camera?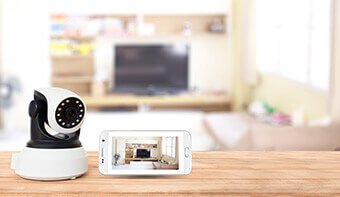 There are several advantages of using IP cameras for your live streaming need. Here are some of the most important ones listed below:
Hassle Free
One of the predominant reasons to use an IP camera is that it is a clean set-up, without having many connections and subsequently many wires hanging around the camera. All that is needed is either, a secure wifi connection or a single ethernet cable, to connect it with the internet.
Flexible
The positioning of an IP camera doesn't need to be fixed and permanent. Since they are designed to work wirelessly, the camera can be repositioned and moved to different locations in the network range for whatever purpose it is supposed to fulfil there. The installation of an IP camera is easy and changeable.
Remote Surveillance
When utilized in security and surveillance activities, IP cameras are especially helpful as they can be controlled and monitored from different locations. Thus remote supervision of events transpiring under the camera's eye can be done by a single operator or engineer. No extra human resource is required in such cases.
Well Equipped
To be more efficient and versatile for multiple uses, IP cameras are built with internal memory storage and better picture quality. So if you are planning to have a longer running broadcast or even for 24/7, IP cameras are a great choice.
Power Of Ethernet (PoE)
A relatively new innovation in IP cameras, PoE allows the camera to get electric power from the same cable that it gets internet connection from. Here, there is no need for batteries or other sources of energy for the camera to work. Just one cable is enough for everything.
After understanding the advantages of using live IP streaming services, take a look at the sundry fields and areas where it can function.
Host an Engaging LIVE Stream
Connect with the Industry's Most Experienced
Live Streaming Service Providers.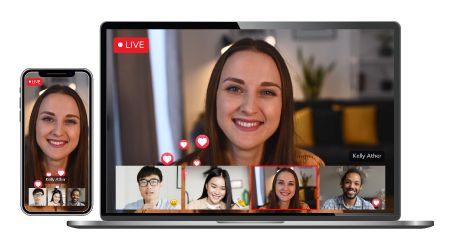 Uses of IP Camera Streaming

The many fields in which IP cameras are used for live streaming are:
Infrastructure Development
On any site where constant infrastructure development is taking place like, construction of a new building, installation of equipment, etc., a live feed of how the process is progressing is important. This where an IP camera comes into the picture.
Entertainment Events
Any live entertainment event like theatrical performances, music concerts, festivals etc. can be live webcast with high quality, dynamic angles and consistency with IP camera set-ups. You should consider frame rate to ensure full HD streaming.
Education
Many educational endeavours can be enhanced by using IP camera streaming. Teachers interacting with students, distance learning courses, streaming of workshops, graduations events etc. is made more comfortable with the adaptable quality of IP cameras. Indeed, it's one of the best ways for education events live streaming on multi CDNs.
Nature
Constant live streaming of the wild can very well be done by setting up these cameras at the correct locations to get the best coverage. You get the live video without disturbing anything as IP cameras are compact and don't have any wires or additional equipment hanging around.
Business
Annual general meetings, town hall meetings, conferences and other business events can be live streamed by installing IP cameras. It saves time, money and unnecessary effort on the part of a lot of people. Since businesses are not always limited to a single location, corporate live streamings also overcome the barriers of distance and time-zones as well.
How to set up an IP Camera Live Streaming?
The whole task of setting up an IP camera live webcast can be summed up in 5 simple steps. To get an idea of it, take a look at these steps listed below: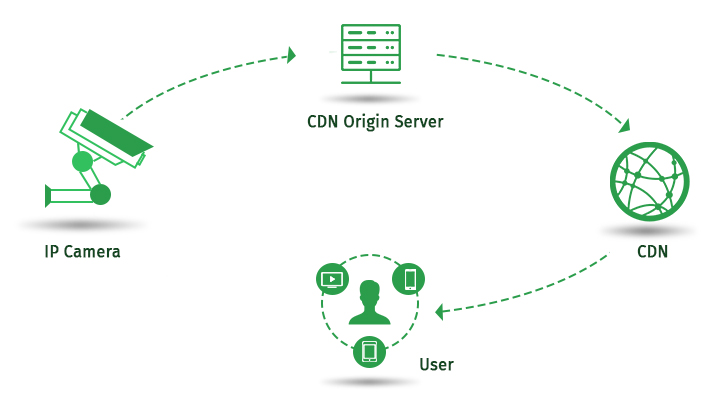 #1 Set up the camera
Select the IP cameras, choose the location from where the live video feed is relevant and set-up your camera there. Get it connected with an ethernet cable or to the wifi network.
#2 Establish encoding equipment
IP cameras have RTSP (Real Time Streaming Protocol) which broadcasts the live video to a small number of devices connected to the same network. For a broader and mass live streaming, the new HSL format of IP live streaming is needed. An HSL standard of the live webcast can be achieved by using encoders like Wirecast and VidBlaster X streaming on smartphones, laptops, tabs etc.
#3 Attach your IP camera to the encoder
Once you choose the encoder that suits your requirements the best, connect it with your IP camera set-up. In other words, you are adding a 'source' in your encoder settings, from where your video is coming.
#4 Join encoder to a streaming platform
Find the streaming platform of your choice and connected it with your encoder. Once this process is done, your live video can be webcast to your audience easily. It is recommended to plan an effective live streaming strategy for social platforms if the event is going to be broadcasted in public mode or aims to reach the mass audience.
#5 Put your live stream on a website
A website is an essential element that factors into the number of viewers the live stream gets. That is why you should embed the live stream on the website too, using a live video player.  
In Conclusion
Live IP streaming services are gaining rapid popularity due to their efficiency and easy to use set-up. Dreamcast also provides these live streaming solutions to its clients. Whether it is events, meetings, conferences or other activities, our service is marked by high standards of professionalism, excellent video quality and reliable technical support for you live stream. Recommend you to also read these 8 hacks to improve your live video stream.
Host an Engaging LIVE Stream
Connect with the Industry's Most Experienced
Live Streaming Service Providers.