A well-turned-out and systematic expo management can mean pivotal success for the event. 
Expos are amazing, as they provide an opportunity to meet new people and capture leads in face-to-face meetings. EXPO, or Exhibitions, is the time of year in which we flaunt, our expertise and our services.
When it comes to planning an expo, it can be considered a daunting task. Undoubtedly, a well-organized expo assists in getting good exhibitors, increasing brand awareness, and creating new networking opportunities. Also, it increases the whole engagement process through meaningful interactions.
However, another side of planning an expo can be a little tedious. They provide many benefits, but the process starts with remembering and checking off the details. The planning of the whole management team begins a year before it actually starts. There is no doubt that the process is costly and time-consuming, but it offers benefits, unlike marketing on a higher level.
If you're currently thinking about planning an expo and are confused about where to start the expo management, Then this article is for you. Consider planning an expo in a systemic way because it can lead to unhappy exhibitors, few engagements, etc. Therefore, your event has to be an ultimate success so that you can be satisfied with qualified leads and networking opportunities. So, without any further ado, let us start:
What is an Expo Event?
Expos are huge events organized globally that aim to find solutions for more growth and development in business. Expos are based on specific themes and immersive activities. These events are organized and facilitated by the government or some specific authorities or organizations. 
However, Expos are also known as trade fairs and exhibitions.  Also, these events serve the purpose of showcasing products, services, or new innovations. Expo events have the ability to gather millions of exhibitors, build network opportunities, innovate dynamically, and catalyze change in cities. 
An expo event can vary in terms of scale. It can range from local to international. Size and focus don't matter in terms of a few organizations, as they consider the expo a priceless/invaluable event. 
What's The Purpose Behind Planning an Expo?
We know the expo provides many benefits, like extended reach, visibility of the brand, and the generation of business leads. But, ever thought about the purpose it serves?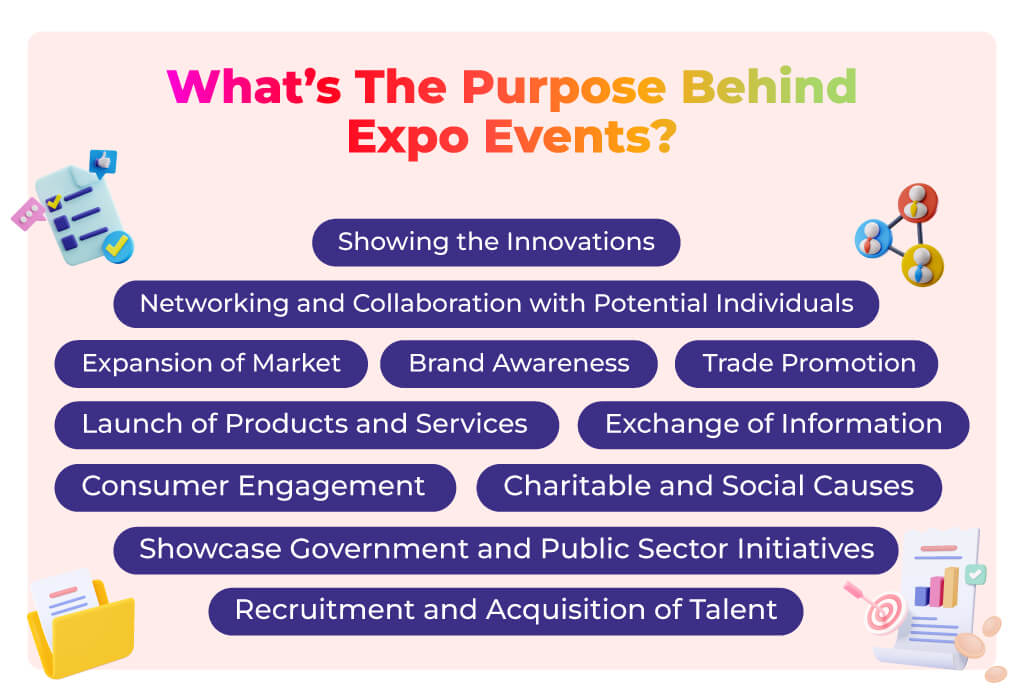 Showing the Innovations 
Networking and Collaboration with Potential Individuals
Expansion of Market
Brand Awareness
Trade Promotion
Launch of Products and Services
Exchange of Information
Consumer Engagement
Charitable and Social Causes
Showcase Government and Public Sector Initiatives 
Recruitment and Acquisition of Talent
Types of Expo Events
Expos play a vital role in bringing people, industries, and ideas together. Undoubtedly, these events are known for their dynamic environment, which allows audiences to engage, learn, collaborate, and meet new opportunities. 
Depending on different industries, there are so many types available on the market. Here are the main types of Expo events.
Trade/ Business Expo 
A business or trade expo is an event that aims to build potential relationships through B2B networking. These expos connect people from similar industries or companies and then show what products or services they can offer in the future. 
Consumer Exhibition 
A consumer exhibition is an event at which companies build connections with consumers. At these events, companies demonstrate their products & services. With these events, many companies build a strong relationship with the consumer, and as a result, they become permanent consumers.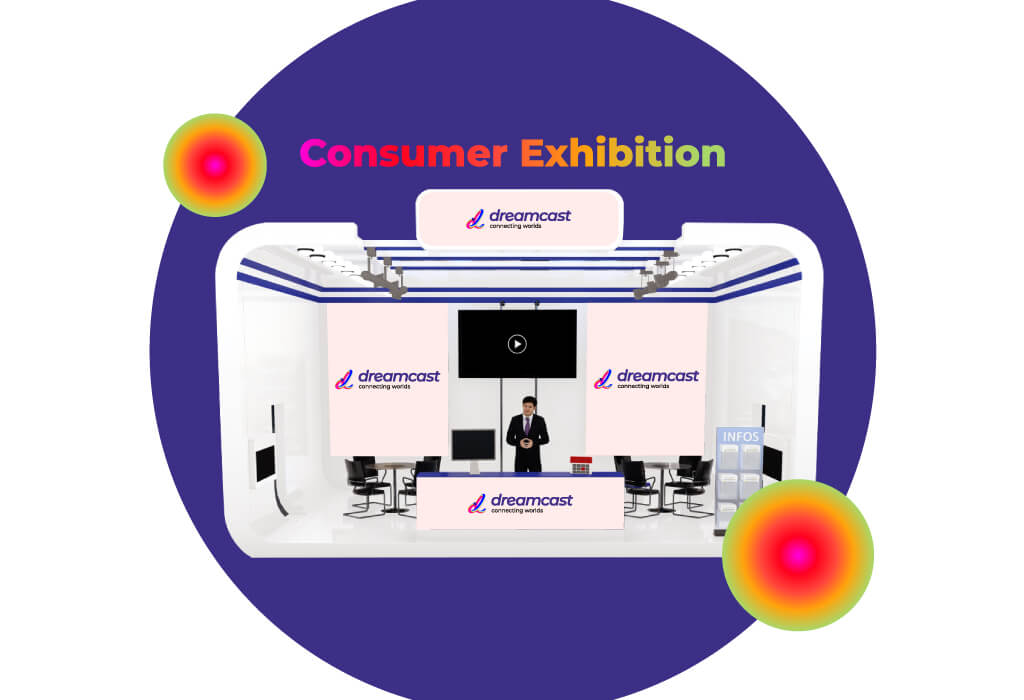 Automotive Expo
As the word suggests itself, automotive expos are events that feature the latest models of two-wheelers, cars, trucks, or jeeps. Also, automotive technologies and accessories are part of this expo's event management. The main focus of Automotive expos is to attract industry professionals, car lovers, and every other automotive enthusiast.
Career and Job Fairs
These expos include job seekers and employees. Career and Job fairs provide a platform for all those who are interested in a job change or seeking any opportunities. These events are based on different sectors or industries. Recruitments, interviews, and job placements are the main focus of these events.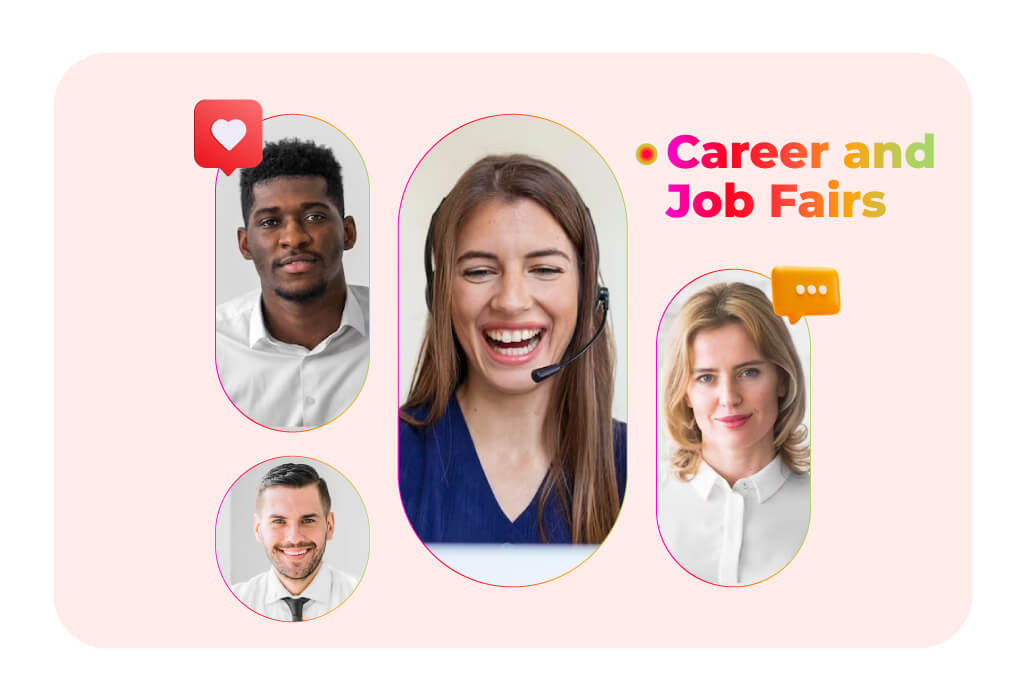 Apart from the above-mentioned types, there are a few more additional expos on the list, and they are:
Real Estate Expos
Wedding And Bridal Expos
Art And Cultural Expos
Environment And Green Expos
Education And Learning Expos
Food And Beverage Expos
Home And Living Expos
Fashion And Beauty Expos
Travel And Tourism Expos
Health And Wellness Expos
Technology Expos.
Top 5 Ultimate Benefits Hidden Behind Expos
However, both planning and managing an expo can be very challenging and time-consuming processes. But how can we ignore the significant benefits it offers? It offers privileges to any size or form of company. Here are the hidden and important benefits of an expo:
1. Unlock Opportunities for Meetings And New Prospective 
Instead of making cold calls or sending emails, trade shows offer exhibitors a great chance to engage and communicate with prospects in person. As an exhibitor, you can engage with visitors to share information about your business, your offers, and their value in a more relaxed and individualized manner. Hundreds of attendees at trade shows can be converted into leads. These are numbers that require a lot of effort and time to acquire through cold calls or email lists. 
2. More Strengthening and Trust-Worthy Relationships with Existing Individuals 
When you make the decision to exhibit and start planning an expo, you should consider inviting your existing customers. Expos provide the opportunity to interact with customers that you've worked with. As a result, you'll notice stronger relationships with previous customers, which opens the door to future business opportunities. Also, reaching out to current and previous connections helps build trust among the audience and, hence, strengthens loyalty. 
3. Knowledge About New Products And Services In The Industry 
Undoubtedly, when it comes to attending an expo, it is important to know that a single expo comes with so many things at the exhibition stand. Expos offer a showcase for a wide range of new products and services from different companies. This gives an amazing opportunity to conduct surveys and market research about the trends and most popular preferences. Also,this helps in knowing about the competitors, like what they are offering and what their trending products are. Thus, expos are best as they assist in providing knowledge within the industry and also provide ways to move ahead. 
4. Increase the Sales
One of the greatest benefits of the expo is that it generates sales. The ideal participants will attend the expo, and while seeking meaningful interaction, they may invest in a new product or service. Engaging with these attendees-cum-investors can be considered a reason that increases sales. All this can be achieved with two things– on-spot sales at the expo and gathering leads. By reaching out to attendees after the event, following them assists in increasing the return on investment. As a result of following up, whether on-site or after the event, it will increase the value of the overall business. 
5. Effectiveness & Satisfaction Through Face-to-Face Communication
What image comes to mind when thinking about a huge expo event? An image of so many people roaming around. One of the most valuable experiences provided by an expo is face-to-face communication with professionals and investors. What's a better way to interact with someone with whom you can discuss business deals? Surely, not emails and calls. It's an in-person conversation. Expo provides the opportunity to communicate and connect with the attendees and build mutually beneficial relationships.
Planning An Expo: How To Plan Effective Expo Management
Thinking about planning an expo with effective expo management throughout. We have you covered. Let's discuss the 5 best strategies that you need to follow for the plan.
1. Create an Expo Budget 
Setting the budget or planning a budget remains the first and most important part of every event's planning. Consider writing the ideas and plans into your notebook, because you want to make the best use of your set budget. The event management services generally covers:
Costs related to exhibition booth designs 
Venue accommodation according to the number of people
Promotion expenses
Technology costs like RFID scanners, 360 photo booths, etc.
Any travel-related expense
Insurance expenses and any other liabilities 
Costs related to overall setup for decoration and security
Food and beverages
2. Set The Marketing Strategies 
A set of well-planned and executed efforts is the reason behind a successful expo. Consider an amazing and innovative plan to ensure that all your audience knows about the event. Believe it or not, you need to invest time and a lot of money in marketing the event. Your marketing should serve mainly two purposes– To market the attendees and to target potential exhibitors. Consider a reliable platform to assist you with whole planning and effortless marketing strategies
3. Make Sure To Take A Test Drive With Logistics
Always consider the logistics for better expo management. Simple things like ensuring basic utilities for attendees like; on-site quick event registration for participants entry, parking facilities, location security, easy check-ins and security can do wonders for your expo. As a result, based on your current logistics, this will aid in making your upcoming expo successful. However, once you are cleared and have figured out all the logistics, you will be able to frame the pre-post picture of exhibitions.
4. Manage Seamless Event Registration & Ticketing Criteria for Exhibitors 
It is important to plan for the most important part of expo management; event check-in and event registration. Consider the methods that you're going to use at the expo for registration and flawless check-in. Choose from facial recognition, QR codes, RFID badges, or any other biometrics for the event check-in. Ensure smooth and secure entries at the expo. Provide the best experience for the attendees by encouraging them to register online for a seamless process afterwards. 
5. Don't Just Drop Off After The Expo 
Make sure to throw a session of appreciation for everyone. You can host the appreciation session at the end of the expo. Send emails or customized surveys to the attendees, so that you can learn about their experiences. No one likes to be rushed or stressed before and after the expo, so make sure that you don't have any unhappy exhibitors.
Final Thoughts
By the end of this article, we've discussed the expo and all things related to expo management. Expos are the best way to connect with people with similar interests and build networks across the world. Consider planning an expo a little early, so that you have more time to make changes in the future. 
If you're planning an expo or are about to host any large corporate events. Make sure that you have the right event-planning professionals on board. Consider Dreamcast your partner because we'll assist you every step of the way. Book a personalized demo for any event or contact us.
Frequently Asked Questions
How would you manage an expo?
To manage an expo, planning comes first, followed by execution. You can't manage events like expos without a dedicated team to help you throughout. Rely on software that assures the best services for both, in-person and offline events.
Are there different types of expo booths?
There are so many types of expo events, and they include, automotive, customer-related, trade/business expos, career fairs, job fairs, tourism, and many more.
What are the benefits of exhibiting at an expo event?
The benefits of an expo event include an increase in ROI, the generation of leads, knowledge gained along with new prospects, and face-to-face conversations.
Why should you attend an expo event?
You should attend an expo event because it provides the opportunity for every business or organization to spread its wings. It provides opportunities, for new clients, knowledge, learning, and much more.
In-Person, Hybrid, Virtual
Create an Extraordinary Event Experience
Across All Event Formats